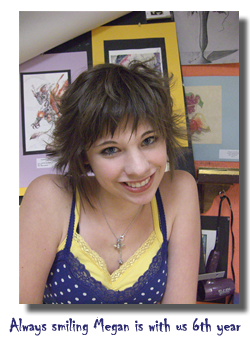 Megan Wittwer

15 years old
Bishop Dwenger
"Pancner's Art School has been my constant comfort since I was ten years old. I have always felt welcome and free to express my ideas and opinions through art and through conversation equally.
Mr.Pancner teaches the basics while letting you keep your own style and creativity , guiding helpfully when needed. Not only have I improved more than I ever thought I would in my art , I have also learned how to express myself through my individual pieces.
Ales and Renata are always there to build up your self esteem on a piece of art , and remind you that what you're working on may be frustrating at the moment , but it will look amazing if you just stick with it till it's done. I am now a sophomore in high school and Pancner's Art School will continue to be a vital part of teenage years until I graduate. I have already been blessed to have expanded my art to places, and in art shows I never thought I would be able to participate in without the help of Mr.and Mrs.Pancner. I know for a fact that these classes will lead me into the future art career I desire, and I couldn't be more grateful for that"