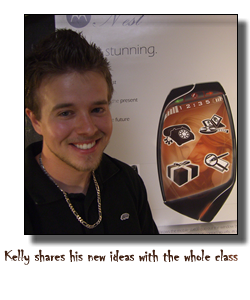 Kelly Bremer

Senior-majoring in Industrial Design
College for Creative Studies
201 East Kirby
Detroit, Michigan 48202
www.collegeforcreativestudies.edu
I began taking classes at Pancner's Art School in 2004 as a sophomore in high school and continued through my senior year in 2006. Ales taught me from the ground up all of the fundamentals that I would need to be competitive upon entry into art college. Ales and Renata are very patient and understanding with students of all ages and skill levels. Without taking the classes offered at Pancner's Art School , I know that I would not have made it into my dream school pursuing a rewarding career in design. I highly recommend taking any and all classes you can from Ales and Renata. You will not regret the decision.
Kelly's contacts:
kellybremer@live.com
www.coroflot.com/kbremerdesign
Credentials:
Dean's List, Faculty Select ( awarded to top 5 - 10% of design students at CCS), Sponsored projects with Motorola and Detroit Institute of the Arts, freelance work with Los Labs Automotive Firm in Ft.Wayne, IN. Kelly was awarded $ 18,000 schoolarship to study at CCS.