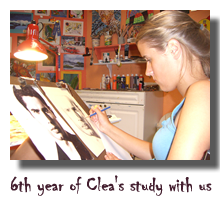 Clea Endres

Freshman - Indiana Tech , Fort Wayne, IN
Majoring in Education at the Keene School of Education
After baccalaureate will major in art education for master's degree
Received Dean's Scholarship ( $ 21,900 .00) at Indiana Tech. from Dean of General Studies
"I started taking classes at Pancner's Art School when I turned twelve and I have continued taking classes into college. At first I was thought the basics and then the classes progressed over time into more challenging lessons.
Ales and Renata have introduced me to new materials and subject matter, which I would not have worked with without their guidance.
They have not only helped me grow as an artist but also as an individual"