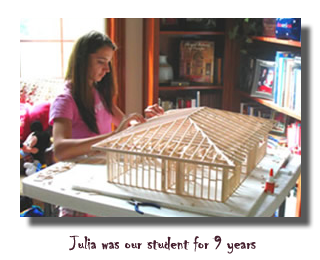 Julia Bowlin

College Freshman-planning to major in Architecture
Rhode Island School of Design
2 College Street
Providence, RI 02903
www.risd.edu
I started classes at Pancnerís Art School in 2000 when I was in 5th grade, and I have continued my education at their art school, from taking classes with Ales to private lessons with Renata, all the way through until my last weeks before college.
I feel lucky to have started with them at such a young age where I absorbed everything that they taught me, and all the skills that I have learned have carried throughout my life, not just within the walls of an art studio. The Pancners have given me such a sturdy base of knowledge in the arts in order to help me get a good head start when entering into one of the nationís top art schools.
I give all my thanks and credit to their assistance in helping me prepare myself for the task of entering into an art college, and they helped me build up my portfolio every step of the way. I couldnít ask for more from any art school, such as the Pancners. No one who cares for art can afford not to attend Pancnerís Art school.
Juliaís Contacts: bowlin747@indianadata.com
Credentials: Canterbury School,Fine Arts Department Book Prize: Senior Recipient, 10th grade Fine Arts Department Commendation, 2008 Scholastic Art Awards Silver Key Winner, 2009 Scholastic Art Awards Silver & Gold Keys Winner and National Portfolio Finalist.