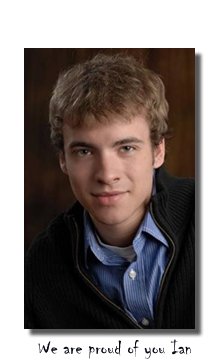 Ian Boyle
Freshman- majoring in Electronic Art & Animation
Ball State University
Muncie, Indiana 47306
www.bsu.edu
I began taking classes as a junior in high school in 2008 and continued through my senior year in 2009. Mr. Pancner helped me prepare my art portfolio for college scholarship competition.
I completed 5 semesters, which included portfolio prep, watercolor, and advanced art study. I went on to qualify for the Presidential of the Arts Scholarship which waives one half tuition, with a value of over $15,000. I also received a $4,000 Fine Arts Scholarship.
Without taking the classes, I wouldnt have known where to begin; his courses taught me to have confidence in my work (useful for scholarship interviews!), to channel inspiration into creating origional works of art, and to assemble a scholarship-worthy portfolio, bringing me closer to having the career I've always dreamed of. If anything, I wish I would've known about the classes sooner!
Credentials:
Presidetial Education Award Recipient
Senior Distinguished Scholar