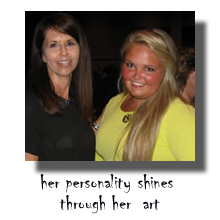 Meredith Braun

Our daughter, Meredith, has envisioned a career in the Fashion Industry since she was young. She structured her academics at Bishop Dwenger HS to help her in that dream. Besides exemplary academic qualifications, in order to begin the process of applying to the top US design schools, we knew a strong art portfolio was critical and the remaining piece to the college application process.
We interviewed two artists to work with and immediately were impressed with Pancner's Art Studio and Meredith chose to work with Ales. His art studio, teacher/student ratio, and student work on display were facets we considered. The extent of his curriculum in the studio was amazing as his students are exposed to so many mediums in so many forms. We knew Meredith would have the opportunity to truly develop her potential.
From day one, Ales was simply amazing. He took a genuine interest in helping Meredith develop her skills and also expand her artistic horizons. He guided her on the path to create work that both was original and also suited for presentation in her portfolio. He reviewed her pieces often, always helping to formulate the strongest portfolio work possible. He challenged her to develop her thoughts and feelings and apply them to her work. He truly brought out the best in Meredith!
Meredith chose twelve pieces of 2D work that she has created under Ales from 2011-2013 and integrated four textile design pieces that she sewed on her own. The strength in Meredith's portfolio lied in the extent of the work, the progression of her artistic abilities, the various mediums she worked with, and her personality shining through. With her portfolio set, she began the college design school application process.
We are extremely grateful to Ales for his professional expertise in the portfolio process and also for his genuine help and caring. He truly wanted to see Meredith succeed and we enthusiastically offer a recommendation for Ales!
Schools accepted for Fall Admission 2013-2014 majoring in Fashion Design
Parsons - The New School For Design (Parsons Merit Scholarship)
Fashion Institute of Technology (FIT Academic Excellence Scholarship)
Pratt Institute (Pratt Fine Arts Scholarship)
LIM - (LIM College Merit Award)
Marist College (Marist Presidential Award)
Kings College (Kings Presidential Award)